Chemical-Protein Interaction network
In ChemMapper Target Navigator mode, we use random walk algorithm to calculate the probability of the path from query molecule to potential targets.
When SHAFTS program finishes its work and generated result hits, a CPI bipartite network between hit compounds and their targets will be constructed. The initial resource vector R0=[RCompound0 RProtein0]T, where RCompound0 was constructed by probabilities according to the similarity score calculated by SHAFTS while RProtein0 was assigned with equal probabilities.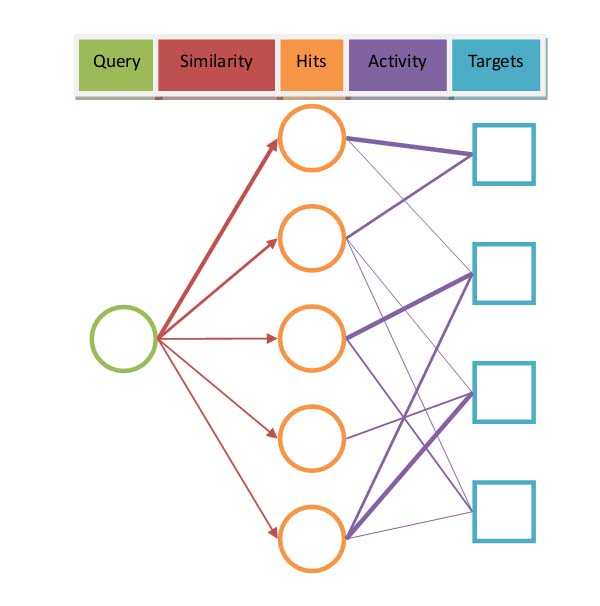 Next we define an adjacency matrix A which present CPI bipartite network according to whether activity data is available. When users choose DrugBank, KEGG or PDB for screen, Aij=1 if Ci and Pj is linked; otherwise Aij=0. On the other hand, if users choose ChEMBL or BindingDB as screen database, the activity between compounds and proteins was also considered. In this case, Aij=-log10(Ki(OR IC50)/100μM) if the activity between Ci and Pj is less than 100μM; otherwise Aij=0.
Then given the adjacency matrix A, the probability transition matrix P could be defined as: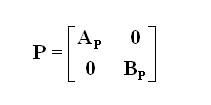 where Ap(i,j)= A(i,j)/sum(A(i,:)) and Bp(i,j)= A(j,i)/(A(:,j)).
Finally, integration of Eq. (1) yields:

Here we use α=0.8. The algorithm will iterate until the change between Rs+1 and Rs fell below 10-6. The predicted targets are ranked according to the values in the steady-state probability vector RProtein+∞.